Red Rock Developmental ESS Preschool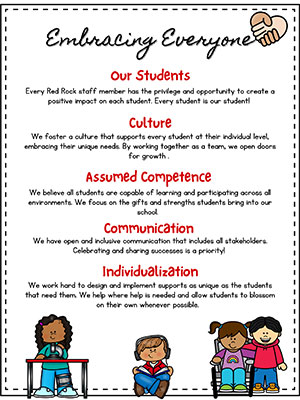 The Red Rock Developmental Preschool offers early learning experiences and promotes the development of the young child who qualify for the program. This program provides a safe and nurturing environment, which is essential to foster the educational process for children to grow and develop through hands-on activities.
Our curriculum encourages the development of the whole child through meaningful activities in the following areas:
Gross and Fine Motor Skills
Communication
Cognition
Self-Help
Socialization
Art & Music
Structured Classroom Routine
Qualifying children ages 3, 4, or 5 years of age are welcome. The classroom has a maximum enrollment designed with the students' needs in mind with an Early Childhood Cross Categorical Special Education Teacher and trained instructional aides. Each classroom includes children with special needs. Classes are 2.5-hour programs that include changing weekly themes and a variety of child-initiated play and teacher-directed activities.
We encourage parents to attend our programs during field trips, the dinosaur dig, our fall celebration, various holiday programs, Valentine's celebrations, and school-sponsored activities.
Mrs. Tiffany Thiele
ESS Preschool Teacher
Shanna Ward & Pam Peevy
ESS Preschool Paraprofessional